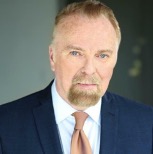 Kevin McGuire (Director of Theatrical Programming) Broadway, National, International Tours: LES MISERABLES (Jean Valjean) , THE PHANTOM OF THE OPERA( M. Andre, Phantom) THE SECRET GARDEN( Uncle Archie), JANE EYRE( John Eyre, Assistant to director John Caird) Kevin was named the First Associate Artist at Capital Repertory Theatre. At theREP: MAN OF LA MANCHA, RED, A CHRISTMAS CAROL, OTHER DESERT CITIES, CAMELOT, SHE LOVES ME, THE SECRET GARDEN, SHAKESPEARE IN LOVE, THE FULL MONTY, THE IRISH AND HOW THEY GOT THAT WAY. Kevin was most recently seen this year at Capital Repertory Theatre in the critically acclaimed play, THE TRUE, as Charlie Ryan. In 2015 Kevin directed the critically acclaimed HAMLET here at theREP starring David Kenner. In New York,  2019 (pre-pandemic) Kevin appeared in the Heartbeat Opera's DER FREISCHUTZ as Kuno, receiving rave reviews from the New York Times for his first Opera ever! 
Off Broadway: FORBIDDEN BROADWAY (original cast), BIG MAGGIE( original cast ) THE SEAGULL, HAMLET( CSC), MUCH ADO ABOUT NOTHING, THE GILDED AGE, A MIDSUMMER NIGHT'S DREAM, Goldoni's IL CAMPIELLO, WAITING FOR GODOT( director Alan Schindler), ROMEO AND JULIET ( New York Shakespeare Festival) Kevin is a company member at The Irish Repertory theater in New York. Denver Center Theater Company in the American Premiere of Nick Dear's FRANKENSTEIN and SWEENEY TODD. Shakespeare Theater DC HENRY IV PART ONE, HENRY IV PART TWO (dir Michael Kahn) Hartford Stage, Arizona Theater Company, Williamstown Theater Festival (receiving his equity card in 1979) Troy Foundry Theater (American Premiere of Richard Dresser's 100 YEARS). Edna Trunblat in HAIRSPRAY. Kevin played George in SUNDAY IN THE PARK WITH GEORGE and to this day his favorite role.

Kevin was Artistic Director of The Theater Company at Hubbard Hall in Cambridge, New York. Three seasons with The Juilliard Acting Company on Tour America.  Born and raised in the Capital District. Education: St. Mary's Academy, Hoosick Falls, NY, The Hoosac School, The Juilliard School.