Rock Camp is the jump start for future rock stars! This program provides an environment for aspiring musicians to strengthen their skills, develop new techniques and build confidence in performing. With practical instruction from professionals, students are exposed to the elements of performing, arranging original music, forming a band, and much more. Plus, a gig in the Great Hall of Universal Preservation Hall (UPH) to showcase their talents!
Program dates: July 8-19, 2024 | Monday-Friday
Hours: 9 a.m. – 4 p.m.  
Performances: 4 p.m. Friday, July 19 
Location: Great Hall at UPH 
Ages: 10 – 16 
Tuition:  $600 (Tuition assistance is available)
Experience: Intermediate 
Application for 2024 Rock Camp opens in February 2024.
Preparing for your audition
Guitar
Bass
Drums
Keyboard
Voice
Q: What do I prepare for the video audition?
A: Students should prepare two separate excerpts from the rock/pop genre of at least 16 bars. The two excerpts should be examples of contrasting styles and tempos within the history of rock and pop music.
Please submit your video as an MP4 file format, YouTube, or Vimeo link. Any simple recording device, such as an iPhone is acceptable. We just want to be able to see and hear you clearly. You may play along with tracks, but we must be able to distinguish you performing live from the prerecorded tracks.
Q: What if I want to audition with more than one instrument?
A: Awesome! Feel free to perform 16-32-bar excerpts for each instrument you want to audition with.
Q: If accepted, what kind of music am I expected to learn for the concert?
A: Music will be chosen from a wide variety of rock music from the 1960's to current day and determined depending on the groups interest and technical abilities.
Q: I'm not sure what to perform. Should it be memorized?
A: Your audition does not need to be memorized however we find that memorizing often adds to a level of comfort and confidence for you in the audition. Choose something you are familiar with and feel confident playing.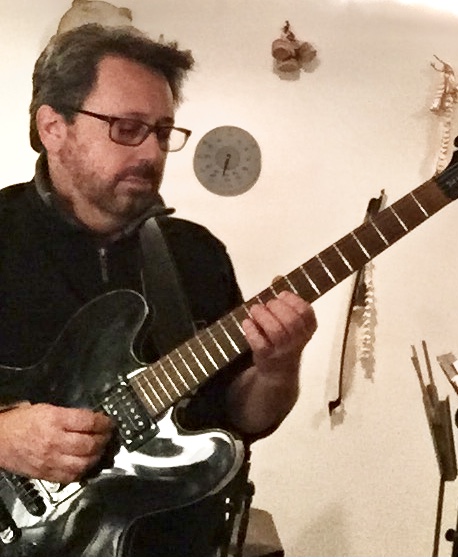 Composer / Guitarist, Crispin Catricala received a B.A. in Music Composition from SUNY at New Paltz (82) and a M.S. in Music Education from the College of Saint Rose (93). He began studying guitar at age 13 and performing at age 17 with numerous groups. Crispin co-founded the regional celebrated World Beat ensemble Pangaea (92-07). The 15-year-old ensemble, known for mixing equal parts Caribbean Funk, Afro/Cuban and Jazz Rock into a high- energy performance has shared the stage with such musical artists such as Hugh Masakela and Richie Havens. The band released a self -titled recording in 1998, which contains many of Crispin's originally composed songs. Crispin also released a duet recording of mostly original compositions with mallet vibraphonist Dave Casner entitled "Geo Beat Duo" (2012). In addition Crispin taught at Ballston Spa Middle School as music instructor and jazz band director for over 25 years, where he often mentored and encouraged his students to form bands of their own. Crispin continues to teach privately in his home studio. He is currently performing solo as well with several projects including Geo Beat, The Stone House Trio and The Swing Docs.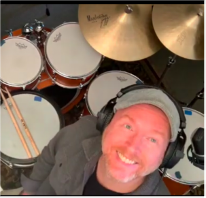 Drummer/percussionist, Andrew Hearn grew up playing in bands with friends around central New York. He began playing out professionally while in college at the Crane School of Music. After graduating, he played shows for Music Theater North (summer stock theater in Potsdam) which led to two 3-month tours of Europe. After returning home, Andrew started his teaching career at South Colonie Central Schools and has been an active member of the capital region music scene performing and/or recording with various rock, pop, jazz, theater and blues groups. He has played local concerts such as Albany's Alive at Five, Concerts at the Plaza Series, Jazz on Jay St, Lark Fest, Captain JP Blues Cruise and more. Andrew's drumming has been aired on local radio stations: 102.7 WEQX, 103.9, 106.5 WPYX, as well as XM Sirius Satellite Radio and local TV (Time Warner's The Sounding Board). Recent recording credits include the Joe Finn Trio Plus One "Generational Dynamics" and Tas Cru's "Memphis Song" and "Drive On". Tas Cru's three most recent recordings (with Andrew on drums) all have won a Syracuse Area Music Award for best blues recording. Mr. Hearn has an enthusiasm for the evolution of drum-set playing in all styles of music and he's looking forward to rocking with you!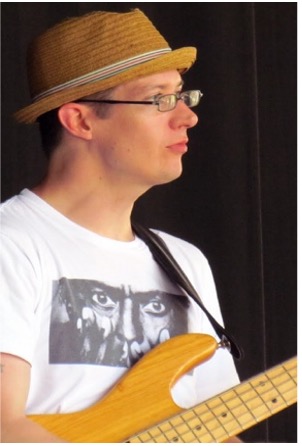 Bassist James Kirk was born in New York's Hudson Valley and spent his formative years studying piano, violin, and later, bass guitar and double bass. Moving to Los Angeles, James attended the Musician's Institute, studying with Putter Smith and Todd Johnson, and later worked with artists including Randy Weeks (Can't Let Go), Rick Monroe, Bleeding Harp, The Secret Burlesque Show, and numerous others. Since relocating back East, James has been active in the greater Hudson Valley scene, where he currently plays with Woodstock-based songwriter Marc Delgado and Nite-Time NYC.
"Music has taken me on the most incredible journey and has been a vehicle for personal growth. To be a musician is to always be a student; it is a journey with no end, no true mastery, as there is always more to know."